Balthasar - Closer to death than to life
During my December 2021 stay, I walked past Balthasar again...I have to admit, I had seen him several times, but we never had the great shelter love...until the day in December when I walked past his kennel and couldn't believe my eyes....
Balthasar already had a tumor on his lower lip since his arrival at the shelter. He comes from the Shelter Bals and we assume that this is the reason why he was disposed of by his owner, because no typical street dog looks like him. He got chemo because of that and actually I assumed the tumor would have shrunk and would be gone soon. What I encountered was far from any imagination: The former powerhouse had become a thin, emaciated dog, who no longer had a sparkle in his eyes and was closer to death than to life... Blood everywhere, which came out of the tumor and he could not eat properly - every time the tumor started bleeding again, as soon as he touched the dry food or the grate door.
For me it was clear, he has to get out of here immediately, because he will die here. So after my return trip I organized his trip to Germany, which took place 3 weeks later. Whether he has a chance of survival, I did not know.  But I think painless and peaceful dying is also a luxury that is not reserved for everyone. And if he had not survived, he would at least have been allowed to leave this world in warmth and peace and with love on a soft bed.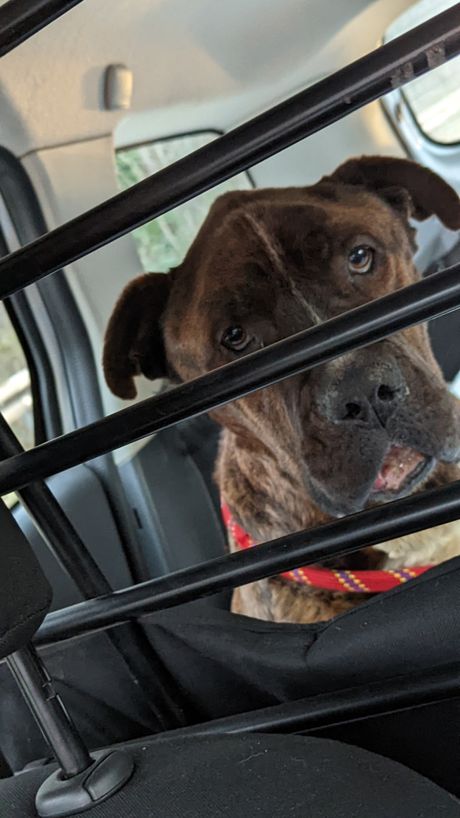 Once in Germany, it was hard to know what he wanted...he liked little walks but was still completely disinterested in interaction or human affection.  House trained he was from the beginning. Driving a car was a dream.
The 1st vet appointment was relatively "unspectacular". Veterinarian's statement: "I have to put him under anesthesia and see what I can do. You can not see how far the tumor is in the jaw and amputation is only possible to a certain extent. It doesn't help anyone if the lower jaw is gone and the tongue and spit hang or run uncontrollably. And that's not great for the dog either."
My hope was not to bring him out of anesthesia if tumor removal was not possible. At least that way, he said, dying would be easier for him. Also, he was still not well, on the contrary, he was very tired and disinterested. I went to the vet a second time and they told me why he was the way he was: He had blood anemia and very bad blood values. We always thought he stunk so bad because he had the chemo but then it came out that the tumor in his mouth was rotting. You can't imagine that as long as you haven't smelled it yourself....My car still stunk without end 24 hours after our vet visit even though I had protected everything with blankets...and the poor guy had the stench around him permanently. Also at this vet visit I was asked the question why you have to do something like that to a dog...(this was not the operating surgeon). But I remained with my conviction:
Just because it's not the easiest way for an animal to go, doesn't mean it's not capable of going. She gave him antibiotic and cortisone and when I asked why such a broken body still needed these heavy medications, she said the body was fighting so hard against tumor etc, this was the only chance and she was right! Within a few days the cortisone pushed Balthazar and the antibiotic made the smell disappear. We had a whole new dog in front of us...little gallops, joy, exuberance...it all slowly came back. However, it was also only a few days until the surgery date and the mood among us humans was depressed as we could see life returning to him without knowing if we would pick him up again after the surgery. The video here was him a few days before the surgery:
Then it came; the walk to Canossa...surgery day was here. As usual, Balthazar went for a great toilet round and did immediately, jumped in the car as if he's been doing nothing else for years and off we went. Funny feeling to drop him off and not knowing if I'll ever see him again....but what can I say, most people already know the happy ending :) I picked up a dog in the afternoon that I didn't recognize anymore - the tumor was gone, as well as a piece of the lower jaw but no trace of disfigurement...I was overwhelmed! 
He had survived!!! The tumor was gone!!! I couldn't believe it!!!! Soooo many people were waiting for my return info and I have rarely sent a message rather than this one!!! The surgeon is a true wizard; not the first time he saved an extreme case's life! I had asked for photos during the surgery and it's really gross what was in his mouth for so long...BALTHASAR LIVED! They had amputated his lower jaw all the way behind his canine teeth and sewed his lower lip back on.  He had made it!!! Only to heal and then finally life could start! And it should be said at this point that the funnel wear also gets a smooth school grade 1, such a dear nerd :) 
The healing went well, Balthasar quickly became more and more cheerful, cuddly and fun. Totally compatible with every dog, great on the leash and and joker to the power of 3 ....I brought him home to me more often and he was just great...friendly to every dog, could stay alone, did not mark and did not break anything. Soooo much joy of life and friendliness, sometimes I thought, he must also have some negative side? But no, there was nothing!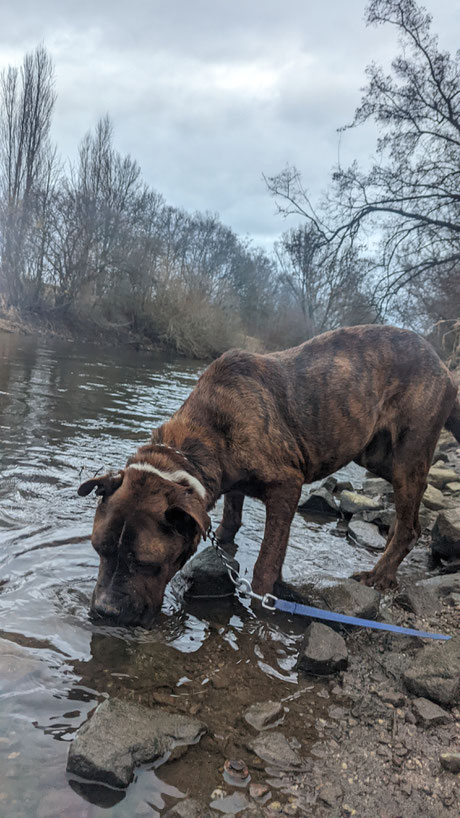 One of the best moments was when he could finally drink water from the river like a normal dog.
Balthasar was in his foster home for about 4 weeks after surgery and then found a wonderful home in the Black Forest. Special dogs get special people...it just fits 100% and we know he has heaven on earth there!
His mouth still needs to be checked for the first 2 years to remove any tumors that may come back right away but that is a small thing compared to the odyssey he has been through.
Live, love and laugh Balthasar - soooo many have doubted and you have shown them all!!!!